Conewango liners aim to offer solutions to farmers to deliver efficient, effective and profitable milking. In order to achieve this goal, our engineers tweak and improve existing designs with the objective of maximizing the liner performance whilst still allowing the farmers to use their available set-up.
As a result of this philosophy, the MR-T range was born. A triangular barrel liner that fits existing triangular shells commonly found in the market, with a few tweaks to deliver customer satisfaction and milking performance.
Performance along with gentle and natural milking are ensured by our unique formulation, which combines compliance with European food grade standards with superior feel, responsiveness and durability. You can read more on our material compliance at https://conewangomilking.com/certifications/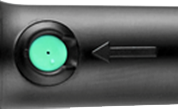 MR-T liners will be available in non-vented and vented versions, the latter will feature our unique vent seat – pictured right:
Available at this stage are the MR-T10, MR-T12 and MR-T15. Soon we will be adding the MR-T13 with a grommet fit on the milk tube.
Details of the dimensions and photos are available on our scroll-down menu in the replacement liners page https://conewangomilking.com/replacement-liners/#